Ilona Grenadier and Carolyn Abbott were asked to and wrote the Family Law chapter for Virginia that was included in the International Comparative Legal Guide – Family Law for 2022.
What is the International Comparative Legal Guide for Family Law?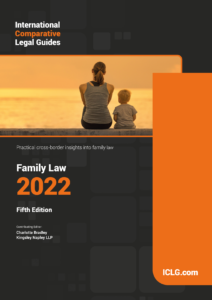 The International Comparative Legal Guide – Family Law 2022 provides international practitioners and in-house counsel with a comprehensive worldwide legal analysis of the laws and regulations in Family Law. It is an honor to be asked to write a chapter in the guide.
Summary of Family Law Chapter for 2022
In the chapter, they discuss the jurisdiction, grounds for divorce, finalization of the divorce, foreign marriages & divorces, separation, finances, time frame, financial orders, property, trust, child support, spousal support, and other laws on divorce in Virginia[Read their Chapter on Virginia, USA]
Get Family Law Advice in Northern Virginia
When considering divorce, it is crucial to seek the services of an experienced, knowledgeable family law attorney. Your attorney will ensure that you understand your rights and will fight for you during the legal process. To speak to an attorney about your case, contact Grenadier, Duffett, Levi, Winkler & Rubin, PC today.